Housing Associations & Landlords
We're here to help you gather evidence when there are serious, ongoing problems
Do you have an issue relating to anti-social behaviour, neighbour problems or noise nuisance? ONRECORD will help you gather vital evidence to support your efforts to tackle these issues.
Help residents to help themselves
If you ever advise residents to keep a diary of an ongoing issue, make a record of events or gather evidence, ONRECORD is the ideal resource for them. Give your residents the mobile app that helps them to gather their information themselves to create a chronological report which they can share with you online.
Users can use their mobile to upload a record of events and can attach photos, screenshots video, documents or voice records – all tagged for location and time – together with a seriousness/impact rating. Data is immediately uploaded in encrypted form to our database. Residents can link their accounts to you so that you can review what they're experiencing, respond to them and download their records, with attachments, as a pdf to help them prepare documents or to add to your in-house records.
Ideal during social distancing
By minimising the need for face to face appointments ONRECORD is especially suited to current circumstances. The mobile app means that residents can keep you informed and consult you for advice simply and conveniently without needing office appointments. The 'Advice' channel is a more efficient and secure way of communicating than email or sms.
No limit to your caseload
You can carry any number of ongoing resident cases in your ONRECORD caseload. Monitor their data at any time on your mobile as easily as on a desk or laptop.
ONRECORD is also suited to groups with shared issues so that all the records are brought together in a single account, so it can be used by residents individually or as a group if there is a shared concern. Pooled data gives a clear picture of trouble hotspots and developing or chronic issues.
Security and confidentiality
All data is encrypted in transit and the database is protected by Amazon Web Services' security features.
App settings enable:
Uploaded data to be hidden on the user's mobile device so that their records cannot be seen while still being available online;
Fingerprint and/or PIN access;
Immediate, emergency logout with the Home button;
Complete client control over who has access to the account.
Recommend ONRECORD
Whenever you have a resident who has a problem that needs to be monitored, recommend they sign up to ONRECORD, download the mobile app and link their account to you.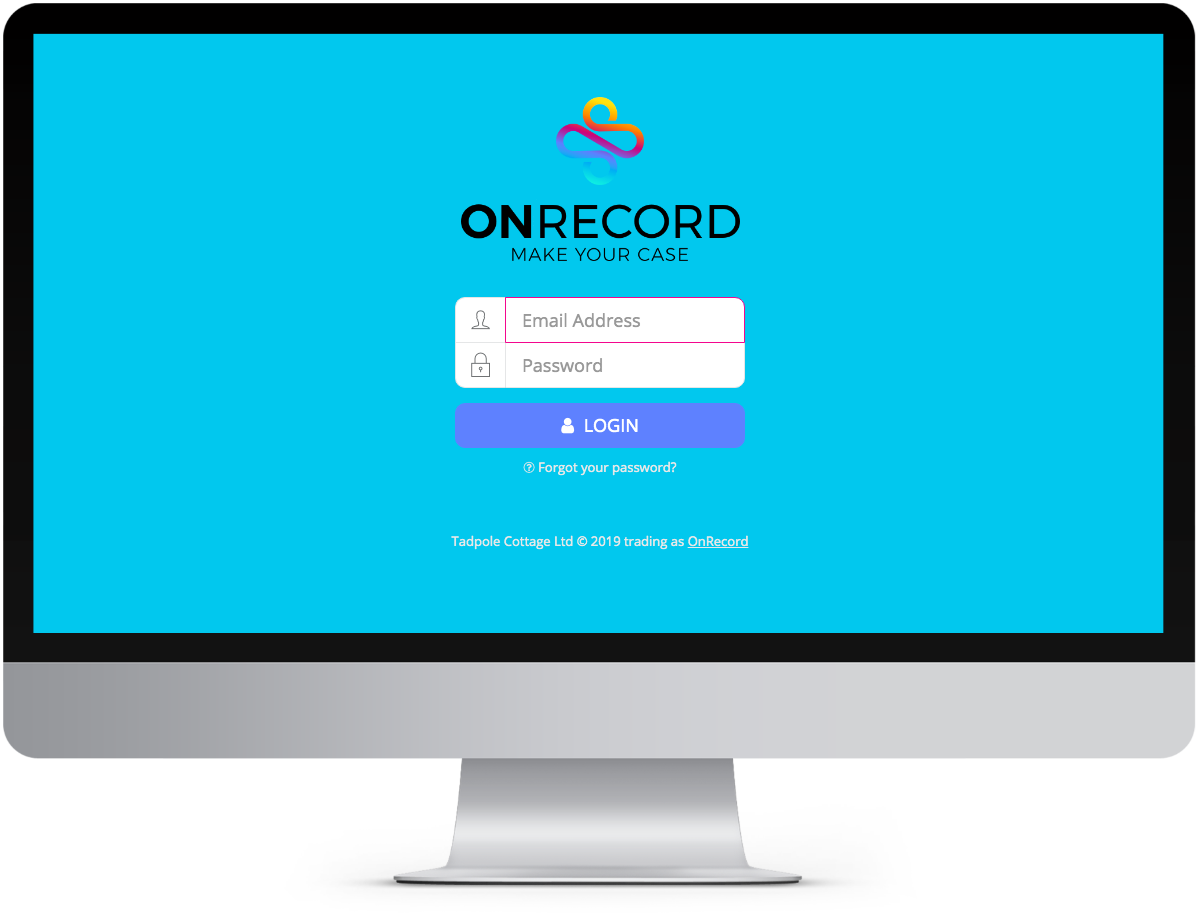 Immediate Access for Professionals
We provide immediate free access to ONRECORD for organisations and professionals who need to view their client's records. Please follow our simple registration process to connect with your client's evidence now.
Partner Programme
ONRECORD works closely with a wide range of organisations in their effort to help people overcome their difficulties. Workers can monitor a caseload through the mobile app and records can be shared with other agencies and professionals. If your organisation would like to find out more about the ONRECORD partner programme, we would love to hear from you.