Win your dispute
Be better prepared than your opponent in a court hearing or a complaint

Be better prepared when you talk to the police

Prove what you are saying is true

Prepare your evidence quickly, simply and cost effectively – on mobile or lap/desktop
Save money on legal fees
Lawyers cost much more than you would ever anticipate. How are you going to get fair justice if you don't have a fortune to spend?
ONRECORD combines all the supporting evidence needed to prove your case. Make your evidence convincing and easy for a judge to understand.
Use ONRECORD's downloaded evidence to act 'pro se' or 'in person' (i.e. without a lawyer). Or share it with your adviser online.  Save money by doing the basic work yourself, leaving your lawyer ready to act and give real value.
The best way to gather and share evidence
Your account of events is of no value unless you can prove that what you say is true. Without supporting evidence, what you say may be of little value.
ONRECORD combines:
Your record and witness accounts 

Location (ONRECORD finds locations and verifies where you uploaded a record)

Photos and screenshots (for example of text messages)

Documents 

Video and audio recordings
Into a single, clear, coherent account which can prove your case.
Use the map, timeline or calendar to review, select and download your evidence.  Filter your searches by date, key words, labels/headings and impact score.
Share your evidence with a professional adviser and get our confidential messaging service
Link your account to your professional adviser(s) online and eliminate expensive correspondence and phone calls. Give your adviser immediate access to your evidence and get our free, confidential messaging service. Unlink your account whenever you choose. 
"I feel it is an app that is very useful and something I need at the moment."
"Easy to use and reassuring to know I can record information as and when it happens."
"Had trouble remembering info and finding written notes and this app puts it all together in a timeline"
"You just complete the same record layout each time, no complicated questions or tech wizardry needed"
"I am no IT wizard but I found it easy to navigate and self explanatory"
"I'm an organised person and found this app to be very logical and it suits my methodical approach."
Use ONRECORD in any dispute
The only way to prove what's happened and win your dispute is to have good evidence. If you don't make good records and add supporting evidence you will not be able to prove your case. ONRECORD lets you immediately make clear and detailed records, with the supporting evidence to prove it's true.
Take responsibility for gathering your evidence, whether you are acting 'pro se' or 'in person' or using a lawyer. Our guidance videos tell you how.  It's time-consuming and expensive for your lawyer to sort your information into a useful document, so do it yourself.  Take control. ONRECORD is the answer.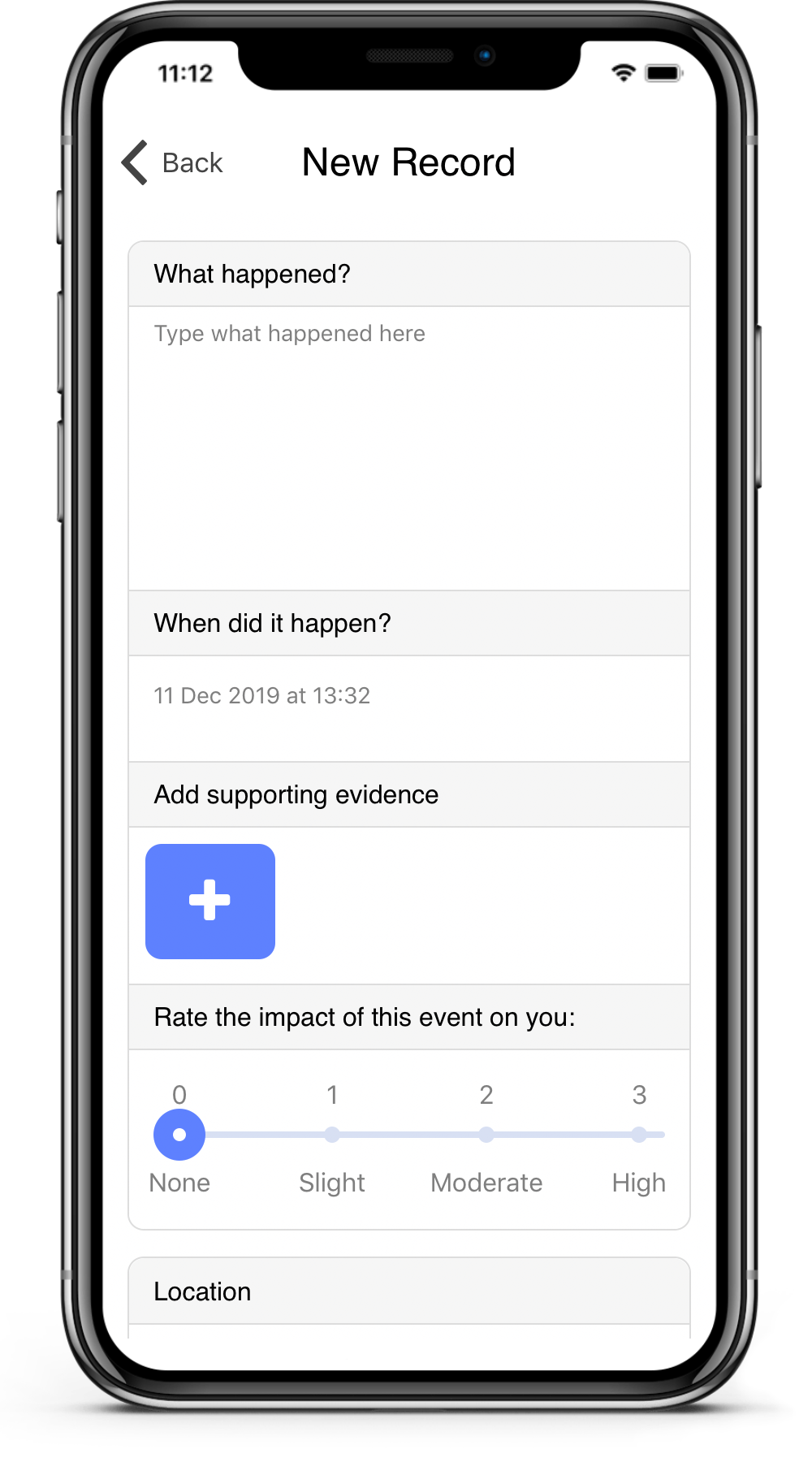 1. Save Your Evidence
Make records on your mobile or on the website as soon as things happen and you are safe to do so. Attach supporting evidence and prove your location, time and date. Everything you upload is stored securely to give the fullest picture of what happened and preserve its value as evidence.
Keep your records organised under unlimited headings and labels.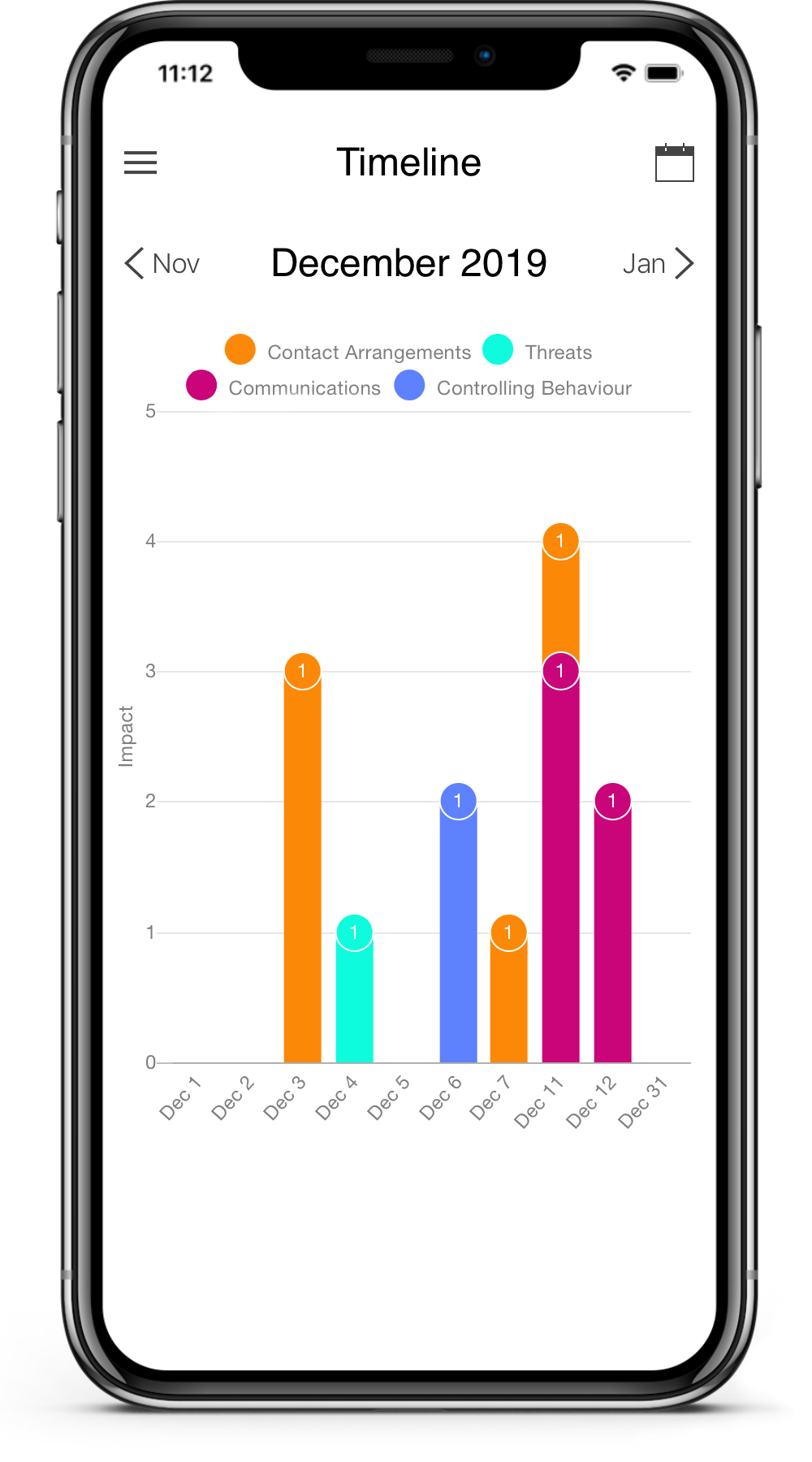 2. Easily Review
Search through your records using our calendar, map and timeline features. Select and download or share your evidence online. Everything you record is securely uploaded and stored in our database. Nobody but you can see it until you decide to share it.
3. Produce Your Evidence
You can allow someone you choose to access your evidence so that they can help you – it might be a lawyer, an advice agency or another professional you trust. Select the records you want to download or share. Your records will be presented in a report in chronological order, with your attachments. Use it to prepare statements, to use in court or to show to the police.