Offer your clients a more collaborative way of working on their case whilst communicating securely.
ONRECORD – Created by a solicitor for solicitors
In every case where you advise a client to keep a diary, make a record of events or keep you updated with their current difficulties, ONRECORD is the ideal tool for you to work together, minimising the need for face to face contact while preserving or even increasing efficiency.
ONRECORD is designed by a solicitor with the issues of integrity and quality of evidence in mind. It gives clients the tool that helps them to gather their information online to create a chronology which they share with you.
Most people stay within easy reach of their mobile phone at all times so the free mobile app makes it quick and simple for your clients to upload records whenever and wherever they need to. You have access to their records on your mobile as well, optimising communications and convenience.
Communicate with clients using the dedicated 'Advice' channel through which you can send written messages, advice and guidance, along with attachments, and work collaboratively whilst maintaining social distancing. The Advice channel provides a convenient means of communicating with clients within the app, including providing attachments, which is more secure than email.
Find out more by Registering Now.
Improve time management
Minimise the time you spend arranging assorted material into a coherent order and linking client records and paperwork to events. At the same time, give your clients the means to minimise the time they spend time with you trying to recall and clarify their chronology. ONRECORD provides a structure, by having both a 'Records' channel and an 'Advice' messaging channel, to separate enquiries and other such communications from the client's record of events relevant to their evidence.
Ideal for home and remote working
In these new Covid 19 circumstances many of your clients will be working from home and less willing to keep your office appointments. Social distancing makes normal office working a thing of the past. You may be in similar circumstances working away from the office too.
When can ONRECORD help?
ONRECORD is suitable to help clients with any ongoing problem such as:
Any form of abuse
Domestic, emotional or verbal abuse
Coercive control
Stalking
Harassment
Bullying of all kinds
Contact and other family cases
Neighbour disputes
Anti social behaviour cases
Employment issues
Housing issues
Racial and other discrimination
Personal injury and medical negligence.
How does it help?
Clients can record information immediately on their mobile so that records are as close to contemporaneous as possible;
Clients can feel free to record every incident without feeling they are wasting your time (as they would if sending emails or trying to phone), giving you a full picture;
Clients have a means of recording new information and keeping you up to date with developments without having to interrupt you;
Records are available to you in real time without the need for phone calls or delay to find an appointment. You can respond with advice within the app, having looked through the records;
Records are stored chronologically and in a standardised format, making them easier to review. Having the information sorted clearly makes it quicker and easier to grasp the circumstances and the pattern of events over time and to help clients more quickly;
Supporting evidence such as photos, screenshots, documents, video and audio recordings are attached to uploaded text, keeping all the key information together;
Records are tagged for date and time – both the time of the event as well as the time of upload;
Location can be verified;
Clients cannot alter their records once uploaded;
Records are easily searched and selected for downloading as a chronology in pdf format;
Downloaded chronologies can be cut and pasted into a statement, your own case files and other documents;
Download the chronology and import it to your existing case management system whenever you want.
Security and confidentiality
All data is encrypted in transit and the database is protected by Amazon Web Services' security features.
App settings enable:
Uploaded data to be hidden on the user's mobile device so that their records cannot be seen while still being available online;
Fingerprint and/or PIN access enabled;
Immediate, emergency logout with the Home button;
Complete client control over who has access to the account.
Temporary access
If you want to try ONRECORD immediately or if you have a client who is already using ONRECORD and you want access to their records, you can get free, instant, temporary access to their account by registering for immediate access on our homepage.
Recommend ONRECORD
Whenever you have a client who needs to be in contact to update you on events, recommend they sign up to ONRECORD, download the mobile app and link their account to you.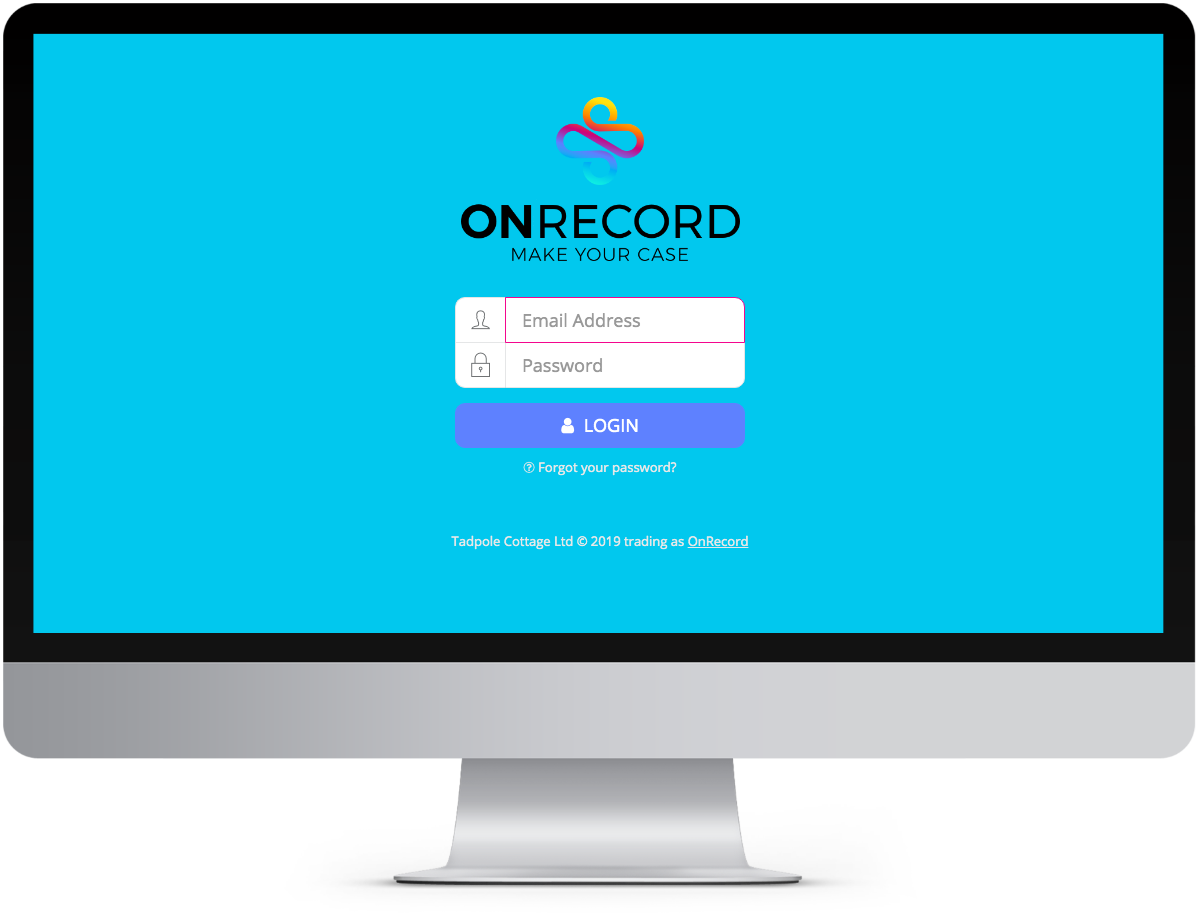 Immediate Access for Professionals
We provide immediate free access to ONRECORD for organisations and professionals who need to view their client's records. Please follow our simple registration process to connect with your client's evidence now.
Partner Programme
ONRECORD works closely with a wide range of organisations in their effort to help people overcome their difficulties. Workers can monitor a caseload through the mobile app and records can be shared with other agencies and professionals. If your organisation would like to find out more about the ONRECORD partner programme, we would love to hear from you.