For Organisations Helping Clients
How ONRECORD helps you and your clients
If you encourage your clients to gather evidence through ONRECORD you'll be able to link with their accounts, communicate with them more securely and help them build and prove their case.
Record contemporaneously
It allows clients to make records on the spot of what's happening to them and upload any evidence they have in support, such as photos, screenshots or documents. With your guidance they'll be able to record the things that are useful and in the way which will best suit their case. Advise them what labels to create (such as physical violence, threats, times of arrival at contact etc) so they know how their evidence should be organised and what's crucial to prove.
The benefits of mobile
Guide your clients to make records as soon as possible after the event to take advantage of ONRECORD's mobile features. Because ONRECORD saves the date and time of every upload, your clients can become more credible by uploading their evidence soon after the event. Any suggestion that the records were made long afterwards can be disproved.
Prove location
The geolocation feature will help your clients prove where they were. This is ideal in cases where false allegations are being made, such as disputes about attendance at children's contact. It's easy for your clients to prove when and where they were. For example if the house is empty when they go to collect children for contact or the door isn't answered, a short video of the situation can be recorded and uploaded. Clients who are being criticised but are unable to prove what's happening will find this an ideal way of getting things straight.
Confidential messaging
Not only can you review and download the client's records of events but you also have the advice/messaging feature. You can communicate securely with your client about any issues, at a time which suits you and keep a record of all your exchanges. You won't have to sort through the myriad other forms of communication clients turn to.
Charities
Supporting charities with evidence gathering tools that help clients with ongoing problems.
Solicitors & Counsel
Offer your clients a more collaborative way of working on their case whilst communicating securely.
Foster Carers & Agencies
Helping meet one of the most important requirements of fostering agencies – keeping good records.
Human Resources
Dealing with a disruptive employee is often difficult, especially if what's alleged is inadequately described, without supporting evidence,
Trade Unions
ONRECORD is the ideal resource to provide for trade union members who need to keep a record of difficulties they are experiencing.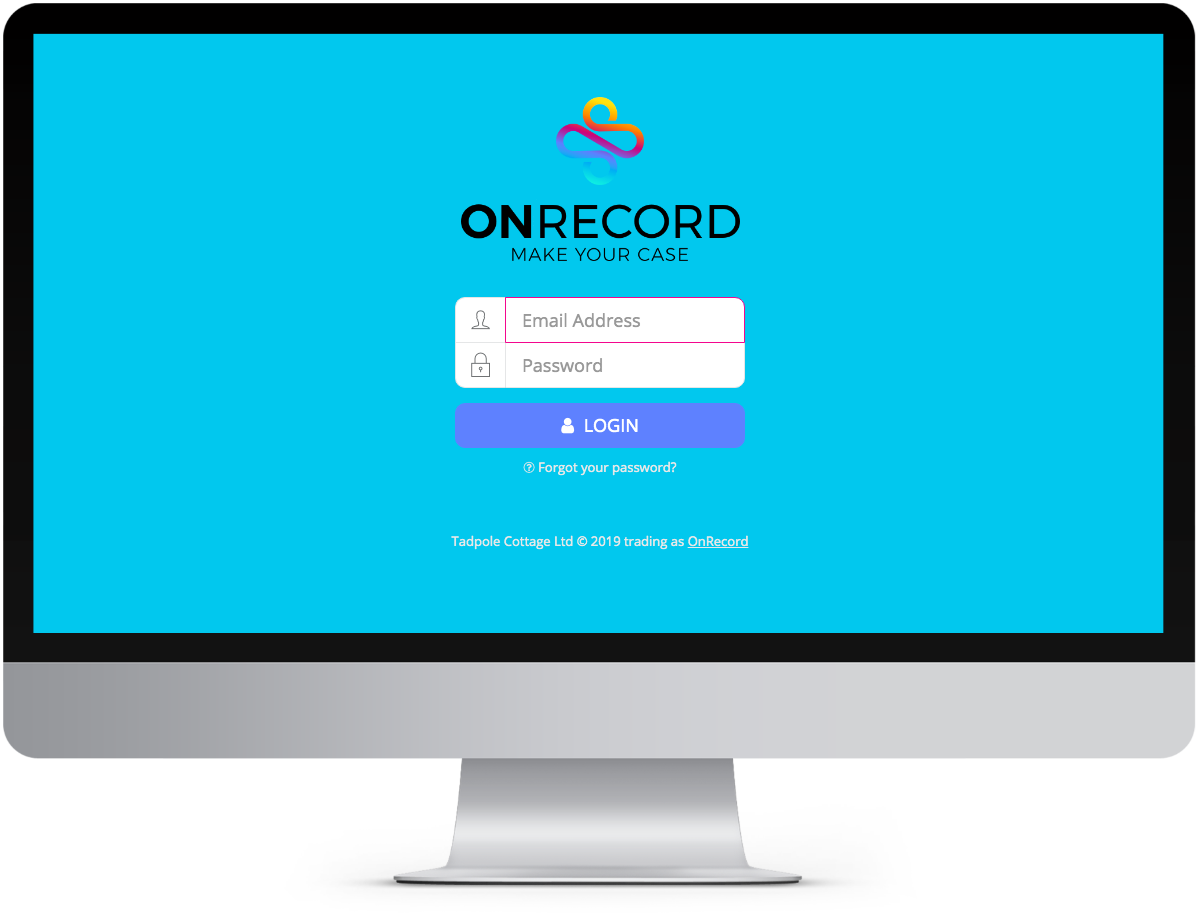 Immediate Access for Professionals
We provide immediate free access to ONRECORD for organisations and professionals who need to view their client's records. Please follow our simple registration process to connect with your client's evidence now.
Partner Programme
ONRECORD works closely with a wide range of organisations in their effort to help people overcome their difficulties. Workers can monitor a caseload through the mobile app and records can be shared with other agencies and professionals. If your organisation would like to find out more about the ONRECORD partner programme, we would love to hear from you.