Help members successfully record workplace problems
ONRECORD is the ideal resource to provide for trade union members who need to keep a record of difficulties they are experiencing.
Most people are always within easy reach of their mobile phone. If you ever advise a member to keep a diary of an ongoing situation, make a record of events or gather evidence so that you can address the issue, ONRECORD is going to be the most convenient way for them to do it, both for them and for you. Uploaded records create a chronological report which they can share with you online.
When an event is recorded, the user can attach photos, screenshots, video, documents or voice records – all tagged for location and time – together with a seriousness/impact rating. Data is immediately uploaded in encrypted form to our database.
To share their information with you, your members link their accounts to you so that you can review what they're experiencing, respond to them and download their records, with attachments, as a pdf, to add to your in-house records.
To find out more about what ONRECORD offers and how it can benefit trade union members, Register Now.
Ideal during social distancing

By minimising the need for face to face appointments ONRECORD is especially suited to current circumstances. Members can keep you informed and consult you for advice simply and conveniently without needing office appointments. ONRECORD's 'Advice' channel enables advice, guidance or other messages to be exchanged within the app and is more secure than email.
The benefits to you:

Members find it easier to do what is necessary to help you address their problem. Members are given the means to gather the right kind of detail and present it in a standard, easily reviewed format;
The clarity of the records with their timeline and maps reduces the time it takes for you to understand what's happening in a situation before being able to offer advice;
Your ability to provide advice on an ad hoc basis is accelerated by being able to access the records in real time;
You can give advice or send messages more securely than email using the 'Advice' channel;
Reduced time spent on producing statements of evidence;
Improved communication and member satisfaction by enabling key information to be shared and members to feel supported;
You can download a clear, well presented chronology to use at a hearing without having to compile it from an assortment of written records.
No limit to your caseload
You can carry any number of ongoing member accounts in your ONRECORD caseload. Monitor their data at any time, using our mobile app, as easily as on a desk or laptop.
Suited to individuals or groups
ONRECORD can be used by individuals or set up as a shared account if a group is affected by a shared issue. Pooled data gives a clear picture of trouble hotspots and developing or chronic issues.
Security and confidentiality

All data is encrypted in transit and the database is protected by Amazon Web Services' security features.
App settings enable:
Uploaded data to be hidden on the user's mobile device so that their records cannot be seen while still being available online;
Fingerprint and/or PIN access enabled;
Immediate, emergency logout with the Home button;
Complete user control over who has access to their account.
Recommend ONRECORD
Whenever you have a member in a situation that needs to be monitored, sign them up to ONRECORD.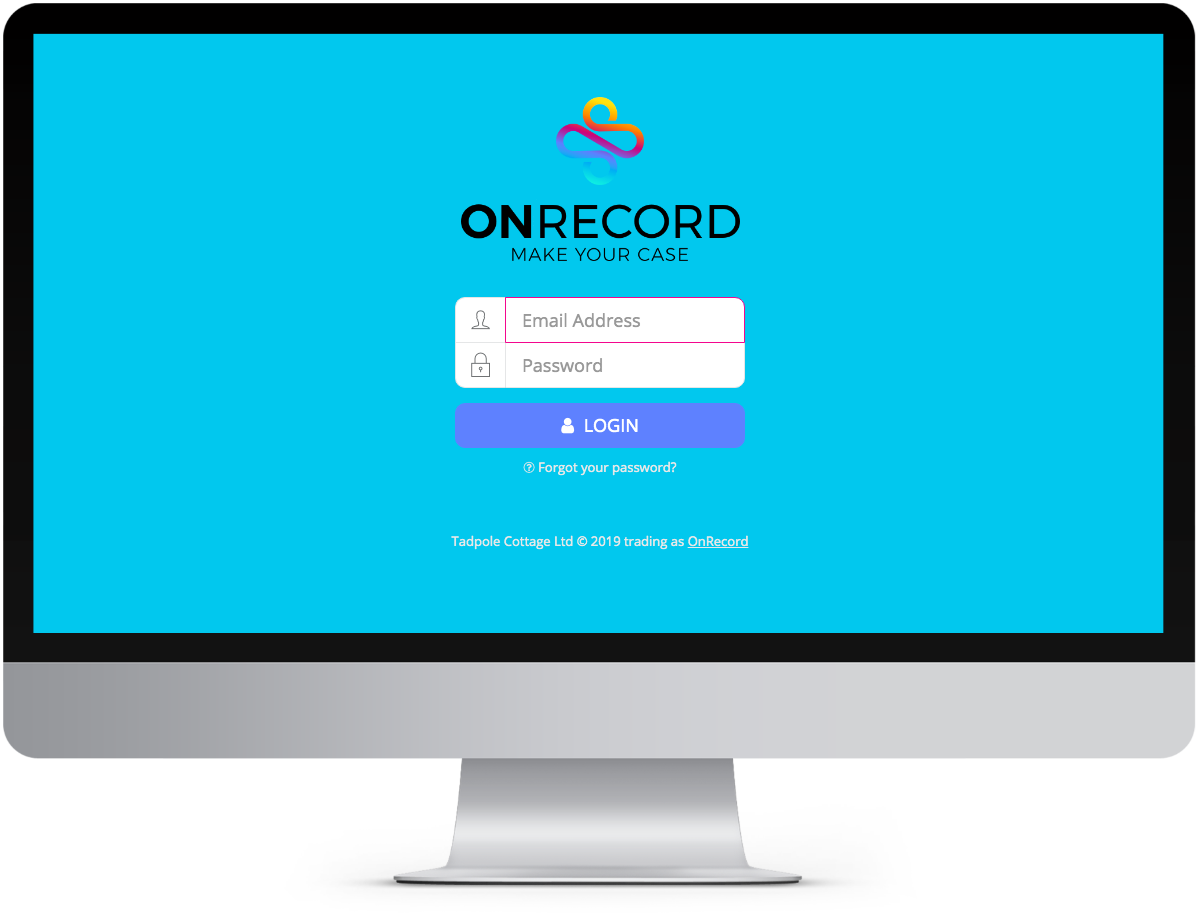 Immediate Access for Professionals
We provide immediate free access to ONRECORD for organisations and professionals who need to view their client's records. Please follow our simple registration process to connect with your client's evidence now.
Partner Programme
ONRECORD works closely with a wide range of organisations in their effort to help people overcome their difficulties. Workers can monitor a caseload through the mobile app and records can be shared with other agencies and professionals. If your organisation would like to find out more about the ONRECORD partner programme, we would love to hear from you.