Getting to grips with poor conduct in the workplace
Dealing with a disruptive employee accused of poor performance, misconduct or workplace bullying is often difficult, exhausting and time-consuming, especially if what's alleged is inadequately described, without supporting evidence, and recorded and/or alleged long after the event. However the consequences of ignoring or tolerating such behaviour when it becomes known can be more costly and time-consuming and can lead to significant negative outcomes to an organisation and its people and increase the organisation's potential legal liability.
Managers have a legal and ethical obligation to investigate complaints or other evidence of such behaviour and to prevent its reoccurrence. It is therefore vitally important to address such conduct proactively and fairly and to identify and analyse the problem to enable firm action to be taken.
ONRECORD helps by…
Recording the concerning behaviour(s) and enabling mobile, real time evidence gathering of each and every event and its seriousness, linked to a timeline and calendar;
Flexibly allowing individuals using the mobile app to gather evidence separately or a group with a common problem to gather evidence collectively;
Enabling HR and managers to monitor in real time each report of an issue, it's frequency and seriousness, over time and assess its significance and risk systematically, thereby helping to take timely action;
Deciding whether any guidance, training or other interventions have served to reduce or remove the problems by continuing the monitoring and assessment;
Providing a means for HR and managers to produce flexible and rich chronological reports showing the evidence of the problem(s) over time, their frequency and seriousness. These reports are suitable to inform internal investigations, discussions reviews and appraisals, or if required to be exhibited to a statement in disciplinary proceedings or in Employment Tribunal hearings.
Choosing suitable 'labels'
ONRECORD is totally flexible and can easily be set up to ensure that carefully chosen and specific issues are reported on to support an investigation. Managers can create any number of 'labels' they choose (i.e. a label for the type of behaviour being alleged) to enable recording, monitoring, ongoing risk assessment and report writing relating to the specific situation being addressed or, if used as a monitoring tool made generally available to staff, to record any kind of performance, misconduct or workplace issue.
Commonly used 'labels' for performance issues could be:
tardiness;
a lack of proficiency in work performance;
In cases of misconduct:
offensive or inappropriate workplace conduct;
offensive or inappropriate workplace communications;
dishonesty;
theft;
abusive behaviour;
bullying
Join ONRECORD Today
We help charities, solicitors, landlords and many other organisations to support their clients.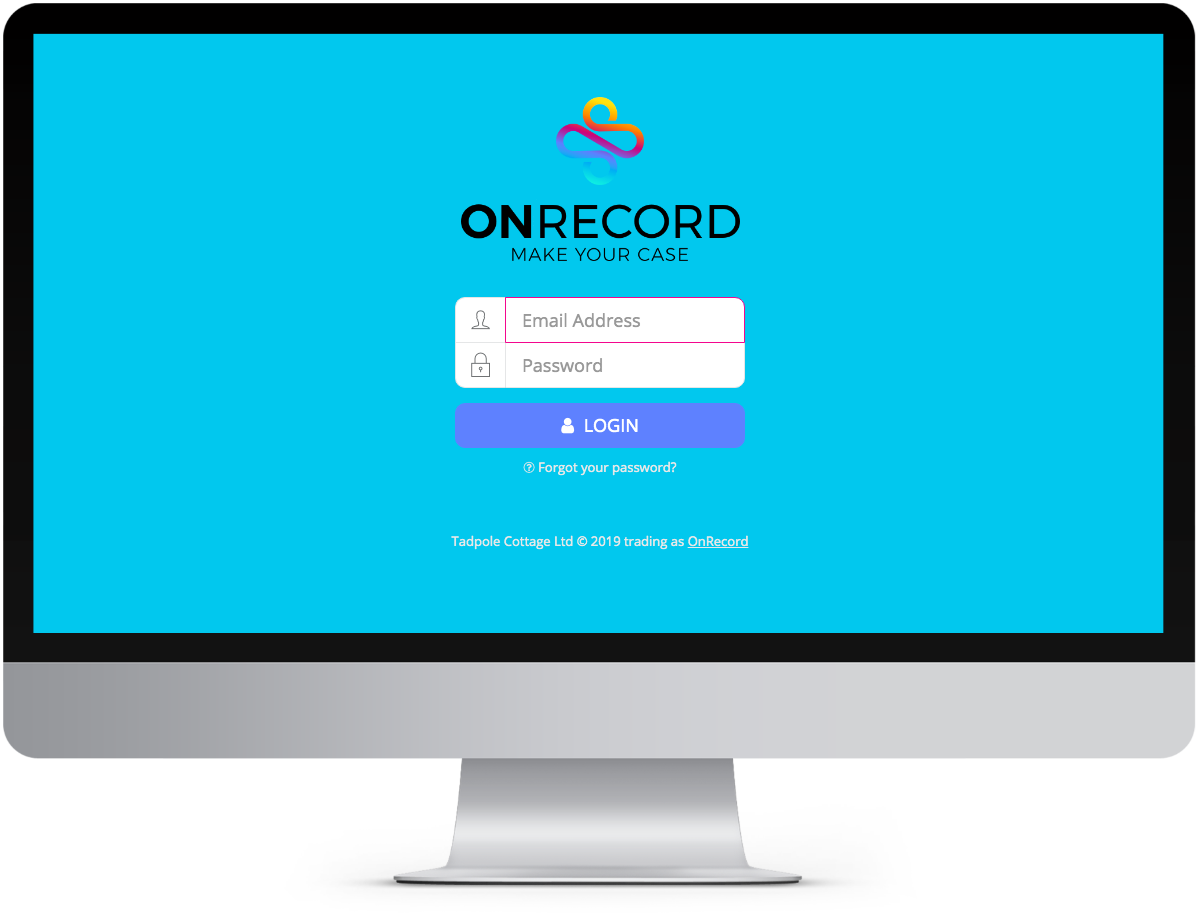 Immediate Access for Professionals
We provide immediate free access to ONRECORD for organisations and professionals who need to view their client's records. Please follow our simple registration process to connect with your client's evidence now.
Partner Programme
ONRECORD works closely with a wide range of organisations in their effort to help people overcome their difficulties. Workers can monitor a caseload through the mobile app and records can be shared with other agencies and professionals. If your organisation would like to find out more about the ONRECORD partner programme, we would love to hear from you.