Local Authority assessments and using technology to improve quality whilst saving time and money.
Good assessments are time consuming and can be stressful for both workers and service users, especially in cases where emotions are high and outcomes not what the service users want.
Much assessment work currently depends on transcribing hand-written or typed notes into word documents or spreadsheets which are then combined to create large files from which is hard to extract information. This is an inflexible, expensive and time consuming way of recording observations and severely limits the scope for searching, analysing and combining evidence to use in reports and statements. Service users often find the process obscure, daunting and difficult to understand. ONRECORD enables assessments to be mobile, flexible, bespoke and with observations securely uploaded immediately, at any time or place to a central database so that the timeline and accumulated evidence is immediately available for review and analysis.
Our platform enables us easily, quickly and cheaply to create bespoke assessment tools for a wide range of assessments carried out by or on behalf of Local Authorities. We can quickly create apps which combine the inputting of all kinds of data (text, voice records, photos, video – tagged for location and time) on mobile devices by teams working in the community, which is immediately uploaded in encrypted form to our highly secure database so that it can be reviewed centrally, searched, analysed and downloaded to be used in reports and statements. Our highly flexible platform can adapt apps to quickly add or remove specific questions or other measures as assessment needs change, alter the focus over time and easy modify presentation content and formats. The platform is so user friendly that, if you have the inclination and the need to save time and money, you can make most of these changes yourself with our support. Combining mobile input with a secure central database facilitates quicker, better assessments and frees up workers' time. Where appropriate, service users can add to the data themselves to provide evidence of progress, confirmation of completing tasks etc so as to enrich the evidence contributing to the assessment. And where appropriate, service users can access the assessment data to monitor their own progress.
ONRECORD enables you to:
Avoid relying on fixed, inflexible assessment tools in circumstances where a bespoke assessment is required.
Have access all uploaded evidence and up to date progress information whilst out and about seeing clients.
Carry a caseload of files in a single secure mobile app.
Immediately record observations, with supportive evidence, without delay.
Introduce measures in metric form to enable charting and immediate visualisation of progress over time.
Adapt an assessment as changes occur.
Gather evidence in a form that enables it to be searched and analysed and presented directly from the collected records held in the database rather than going through files of papers and constructing an argument based on what you find and decide to use.
Increase transparency: Service users and their representatives can have an agreed level of access to the assessment data.
ONRECORD is ideally suited to assessments in:
Public law care proceedings and in some exceptional private law proceedings where parenting, contact and potential kinship care arrangements have to be assessed.
Assessment of needs in adult social care.
Assessment of needs in children's social care cases.
Educational assessments.
Strengths based assessments
Supported self assessment under the Care Act 2014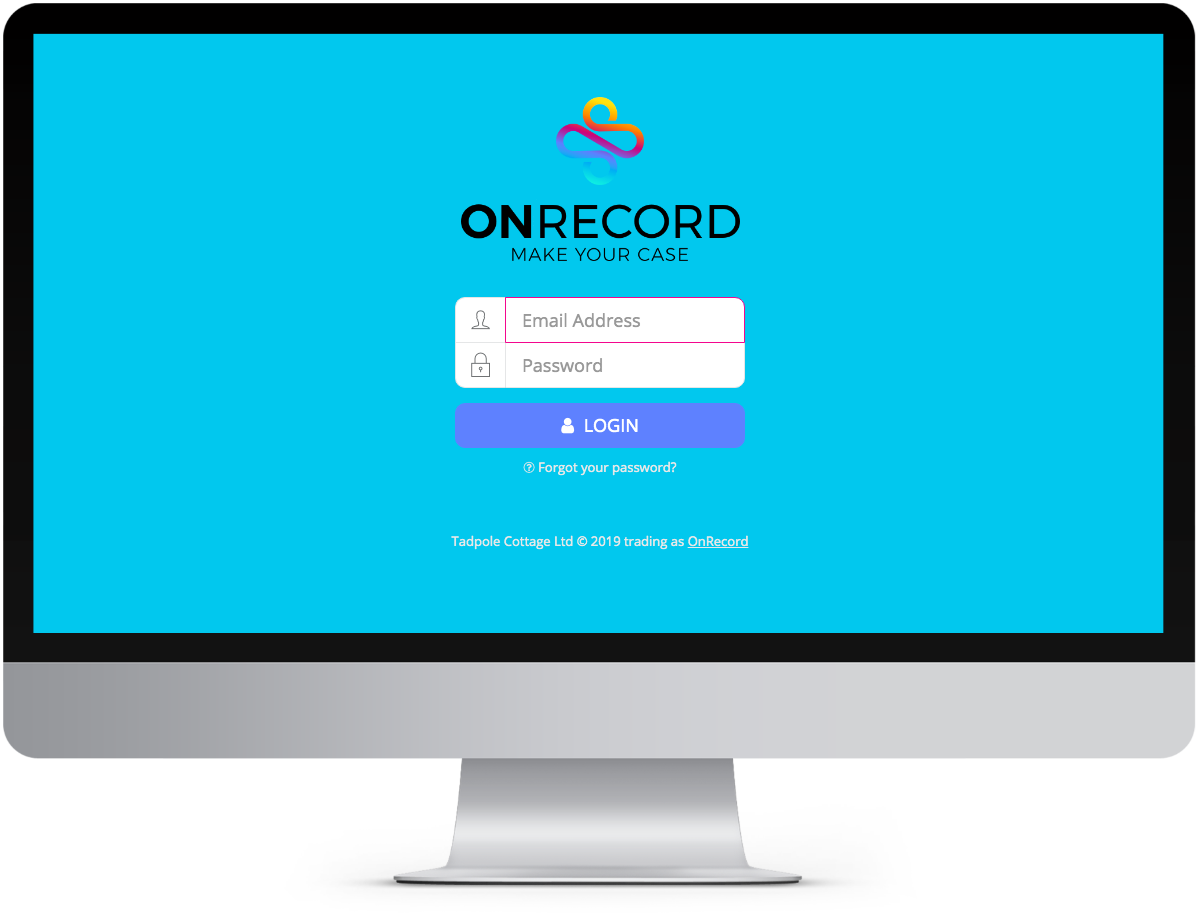 Immediate Access for Professionals
We provide immediate free access to ONRECORD for organisations and professionals who need to view their client's records. Please follow our simple registration process to connect with your client's evidence now.
Partner Programme
ONRECORD works closely with a wide range of organisations in their effort to help people overcome their difficulties. Workers can monitor a caseload through the mobile app and records can be shared with other agencies and professionals. If your organisation would like to find out more about the ONRECORD partner programme, we would love to hear from you.